At Porosity Services, we know and love agriculture! We understand that to nourish and support a growing population with limiting resources requires significant innovation to improve productivity. We know first hand that using monitoring technology can be a very important cog in the complex system to increasing yield, quality and input efficiencies, through the strategic use of sensors, telemetry and intelligent software.
Porosity Services specialises in supplying "Ag Tech" in the form of high quality, robust and durable sensors from known and experienced suppliers around the globe. We package our solutions by connecting with a suitable telemetry system, which delivers the data as easy-to-understand information, ensuring smarter decisions by progressive farmers, consultants and environmental managers. We also provide a high level of technical support to our customers to ensure their monitoring systems remain accurate, over a longer life than one that is simply installed by YAS (Yet Another Startup) company and left to fend for itself!
Our main monitoring solutions are;
Soil – moisture, temperature, salinity.
Weather – Rain, Wind, Temperature etc.
Water – channel heights, dam volumes, tank levels.
Plants – canopy temp, stem/trunk diameter.
Pump & Engines – on | off, flow rates, RPM, pressure.
Remote Cameras – keep an eye on critical areas.
Porosity has agricultural, horticultural and environmental clients around Australia, in irrigated and dryland systems. Our staff have 20+ years experience in installation, technical and agronomic support, so it means we can advise our existing and future customers on the best solution to meet their production needs and budget. Our field technical service guarantees the sensor and telemetry hardware is operating effectively, and most importantly that our customers are utilising the information to its potential.
Porosity Services Pty Ltd was incorporated in 2007, and HQ is based in the thriving regional town of Mudgee, on the central tablelands of NSW. We predominantly service our customers within 4-5 hours drive. Specific projects are also performed outside this area, such as a soil moisture monitoring project for broadacre dryland farming on the Eyre Peninsular for SANTFA (South Australia No-Till Farmers Association), and a specialised weather monitoring system in Far North Queensland where we are using the weather conditions to predict the number of hours per day that a bee would be pollinating blueberries – wow!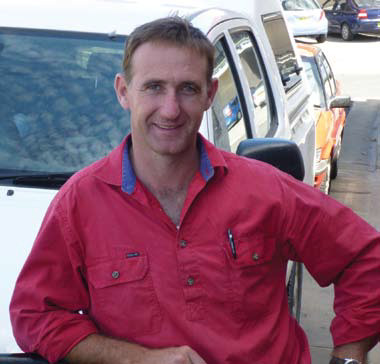 Brian Thomson is the Founding Director of Porosity. Brian completed a Bachelor of Science in Agriculture at The University of Sydney in 1999, majoring in agronomy. Since then, Brian worked as a Business Development Manager with a major fruit and vegetable supplier, a state manager for a major soil moisture monitoring company, and as an agronomist for a consulting company. In August 2007 Brian took the leap of faith and started Porosity Services, which has continually expanding its portfolio of suppliers, customers and opportunities.
In August 2017, Frazer Slack-Smith joined Porosity, and heads up the role of Field & Technical Support.  Frazer brought a wealth of experience, with over 15 years in the agriculture sector; running an irrigation scheduling service using neutron probes, time in the wine industry, and 13 years in the IT industry—a very solid match for what we do here at Porosity. Frazer has helped improve our customer service and software presentation to the next level.